Preloaded Flash Drives
Many times our clients want to have their data preloaded on their custom flash drives before we ship them. We're data and publication professionals. We have a number of different ways to showcase your data and we can load it onto your flash drives quickly. We'll work with you to get your approval before submitting your job to data production. If you have any special requests, just let us know. We'll load them only after you're satisfied. Call 866-458-8415 if you have any questions about preloaded flash drives.
FREE Windows & Mac Flash Drive Icons- With Every Preloaded Flash Drive
When your preloaded flash drive lands in the hands of your end-user, and the user plugs it into their computer, your drive icon and label will be shown. This makes all of your preloaded flash drives easy to use regardless of how tech-savvy the user is. Users will be able to store their own personal data while easily navigating and accessing any preloaded data you want to include, making our preloaded flash drives a top-quality combination of promotional material and user storage device. Prospects and customers won't forget your brand with one or more of these flash drives.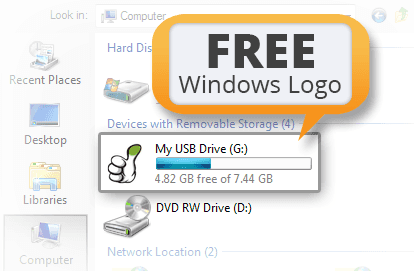 We'll work with you to identify a graphic that makes the most sense for your project. Your logo, project icon or whatever you prefer. This is a finishing touch to your data preloading that not all custom flash drive companies offer, much less for free. We'll put together a complete solution that accurately represents your brand both externally and internally, with a combination of visual appeal and data storage that further promotes your brand with digital marketing materials. You can get exactly what you want when you work with Every USB. We'll make sure you're happy with the final product before you ever pay for your flash drive shipments. We want to ensure you get the results you expect and can showcase them to your customers and prospects.
Simple Preloaded Data – FREE*
Exactly how it sounds. We simply load files you provide at the time of your order during the preloaded USB drive manufacturing process. Most of our clients don't have time to sit and load flash drives one at a time. If you've ever done it, you know how time-consuming it can be. We're experts in the process, and we'll load the drives properly so you have no worries that when your end-user gets your flash drive, your content will be presented the way you intended. Best of all, there is absolutely no charge for this service *under 2GB! We want to make sure that all of our custom preloaded flash drives are consistently affordable, and making preloaded data storage free makes this possible, while still providing you with a reliable and appealing product. Ask your salesperson about preloaded flash drives with a data load of larger than 2GB.
Preloaded USB Drive Example: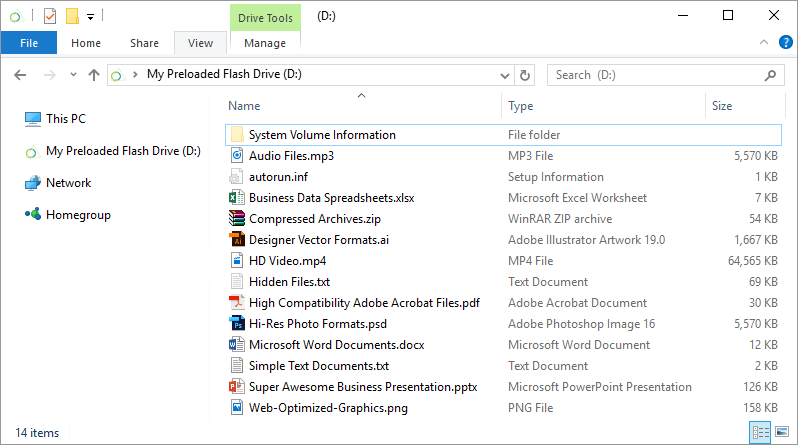 Regardless of the storage space you need for your flash drives, we can preload many types of data on your customized products. Depending on how much data you want available for users to store their own files, we can help determine which storage capacity is ideal for your preloaded flash drive. You'll be able to store digital marketing materials of all sizes on your custom flash drive products. At the same time, users in your target audience can benefit from a product that gives them plenty of use as a long-lasting storage device. Whether you want a flash drive that includes minimal preloaded data with ample storage space or vice versa, we'll design the perfect solution for your brand that can impress both you and your end users.
Uneraseable – Write Protected
Sometimes you want to make sure that your data remains on the preloaded USB drive for the life of the drive. We can Write-Protect your data, so that it cannot be written over by the end user. This provides longevity of your message and content. If for some reason there is remaining space on the flash drive, the end-user will still have the ability to use any of that space without issue. There are three ways to partition the drive capacity…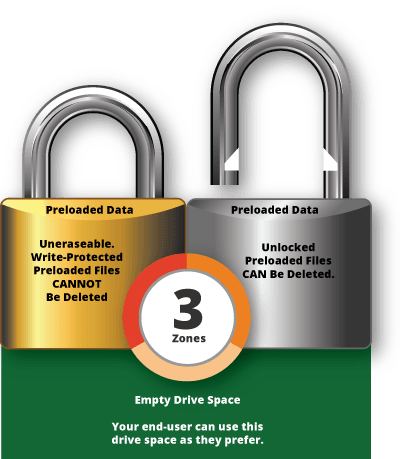 Depending on the size of your data, there may not be any additional cost associated for the Write-Protected Preloaded flash drive. Whether you need preloaded data for 2GB flash drives or a 128GB flash drive, we can give you what you need while remaining cost-effective.
Ask your sales associate for more information.
Copy Protection & Data Encryption
Prevent illegal copies and sharing of your content with copy-protected and encrypted data. You won't need to worry about unauthorized access to any of the data stored on your preloaded flash drives.
Secure, encrypted container allows access to the content only if the protected USB stick drive is available or the content has been unlocked via an unlock code
At the same time it blocks all unauthorized access attempts such as file copy or saving to hard disk.
USB stick/flash drive verification or code unlock
You can allow accessing the content directly from the USB stick/flash drive or allow installing/copying it to a computer or device.
In any case the content is securely locked to the USB stick/flash drive or to an individual unlock code.
Without the original USB stick/flash drive or unlock code, the content is not accessible and can't be copied.
Cross-Compatible
The protected content works on Windows PCs, MacOSX computers and Android devices.
The locked content on the USB stick is completely self contained and does not install any drivers or require administrative privileges at any time.
Serialization
Your custom flash drives can be preloaded with a unique ID or serial number on each drive for use in application control, distribution tracking or many other reasons. This can help you get even more from your preloaded flash drive products, making them an even more effective marketing method. Talk to a sales representative for more information.
Choose from Many Thumb Drive Designs
In addition to customized internal data, you can get fully personalized jump drives in many different designs. We have a nearly unlimited selection of unique flash drive designs to choose from, which can best suit your brand. You can get a complete package with custom preloaded data and an original thumb drive design that displays your logo. Our jump drives are also available in many different color options. We'll help you design some of the most original preloaded thumb drive products to help promote your brand while bringing utility to prospects and customers.
Using a combination of a unique physical design and preloaded data, your customers and prospects can utilize promotional materials that effectively advertise your company with every use. The options are nearly unlimited when you order preloaded USB sticks and other unique flash drive products from Every USB.
We're Data Professionals
Over 30 Years of IT Knowledge & Experience
Thorough Proofing Process to Ensure You are Satisfied with Your Data Preloading
Delayed Data Reception – Get a Jump on Your Timeline. We'll Manufacture the drives, while you gather the data.