Choose one of our stock custom flash drives below to learn more about the model and to request a price quote. If you don't see the flash drive model that you are looking for listed on this page, call 866-458-8415 and speak with a salesperson. They can most certainly help you Find Your Drive™ at Every USB.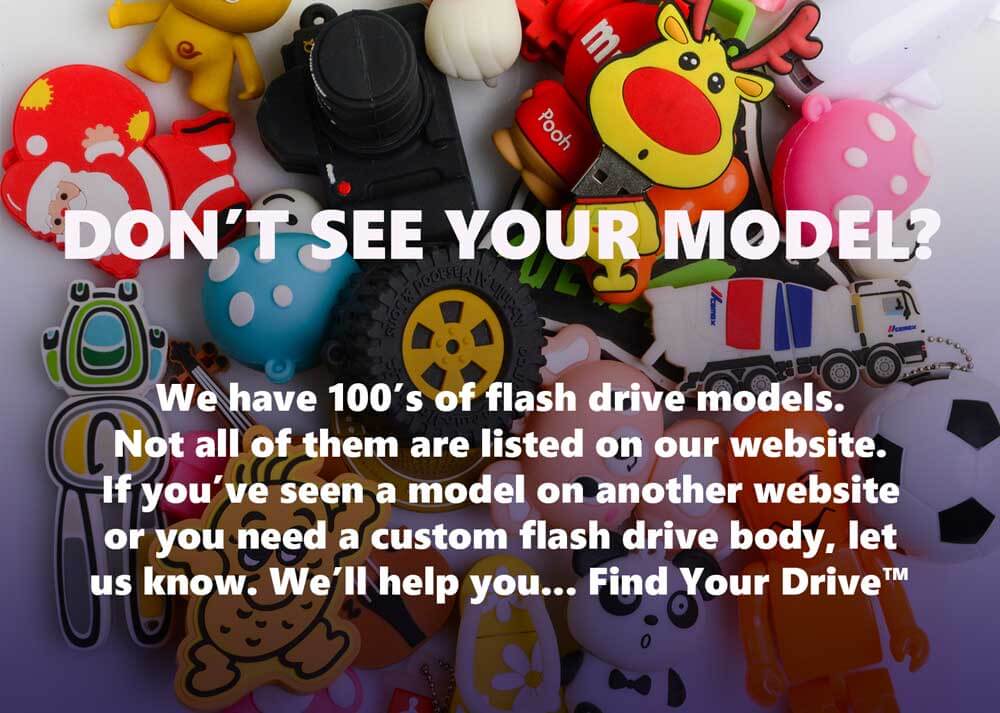 There are a lot of names for the product we offer… custom USB drives, personalized pen drives, bulk usb sticks, branded thumb drives, but there are even more ways to use them.
Preloaded Data
We offer preloaded flash sticks with your data loaded right onto the flash stick. From a simple data preload to more advanced data encryption, we offer a range of preloaded USB types. You'll be able to use these custom USB sticks to carry many different types of data, enhancing these products as marketing materials. At the same time, users may still have access to ample free space to store their own data. There are plenty of data capacity options available, allowing you to fully customize all of the space to fit your preloaded data while enabling users to use them as long-term personal storage devices that continue to promote your brand for many years.
Organize Your Content
It's great to distribute your content with flash sticks. It's even better to guide your end user through a navigation flow to the information you need them to see, when you need them see it. This is why we recommend the HTML5 Flash Drive Navigation Menu. Using your end user's browser, we can include an HTML file on the drive for them to open and browse through the contents in a more visually appealing manner. This is the finishing touch to your custom USB stick. And it's very affordable compared to other services on the market.
If you are distributing a lot of content, we may recommend our ebook publishing service. With a table of contents and a powerful searchable index of information, your end user's will love the ebook. We've produced 1000's of ebooks for continuing medical education conferences, corporate seminars, business manuals, text books and more.
Promotional USB sticks, tailored with your company, organization or event logo and data, these USB drives can spread your brand, message and content. Use as giveaways at a tradeshow or handouts at a conference. Promote your new product or software package with a piece of computer hardware in the hand of your target user.
Personally made thumb drives are Every USB's specialty. We have the capabilities to provide drives that meet nearly any color, size, and shape specification, with plenty of stock models available for purchase.
In addition to providing general, customized USB drive designs, we can also print your logo on them for effective branding, along with preloaded data that can give you multiple ways to showcase data at your request.
Choose from Many Designs
Among our stock models, you'll find a wide variety of designs to match the look and feel of your brand, impressing customers, prospects, and employees alike. There are many others you can choose from based on product designs and other sources of inspiration, making your USB flash drives as unique as your brand. There are almost no limits regarding the design and data storage possibilities with our custom USB sticks. We can provide you with a durable and long-lasting product that uniquely supplements the rest of your marketing efforts.
Get Custom-Printed Logos and Preloaded Data
To fully customize your flash stick, we can also print your logo for effective branding. Based on your logo design, we can produce a custom thumb drive that serves as an effective representation of your company, establishing you as an industry authority.
If you want to effectively showcase data to prospects and customers, we can also preload drives with data of your choosing, with locking and encryption capabilities to keep your information safe at all times. We can even make each USB drive unique with serialization. We also preload all data under 2GB at no charge, making this a cost-effective service.
Custom Flash Drives with Your Logo & Preloaded Data
Custom USB drives are our specialty. Browse a list of our stock models below. If you don't see the USB drive model that you are looking for listed on this page, call 866-458-8415 and speak with a salesperson. They can most certainly help you Find Your Drive™ at Every USB. We have a wide range of designs available that can give you a unique form of marketing for your brand, combining utility with visual branding. Every time a user stores or accesses device on your company's USB, they'll be reminded of you, unlike other marketing materials.
Browse Our Full Selection of Unique Flash Drives
To choose a flash drive design that works for you, browse our inventory above for one of the widest selections of USB designs. If you can't find the design you're looking for, Send us a Message or call 866-458-8415 and speak with a salesperson for assistance. They can help you Find Your Drive™ at Every USB. You'll be able to get the exact flash drive products that you want to make your business stand out from other brands, with a finished product that accurately represents your company with every purchase.